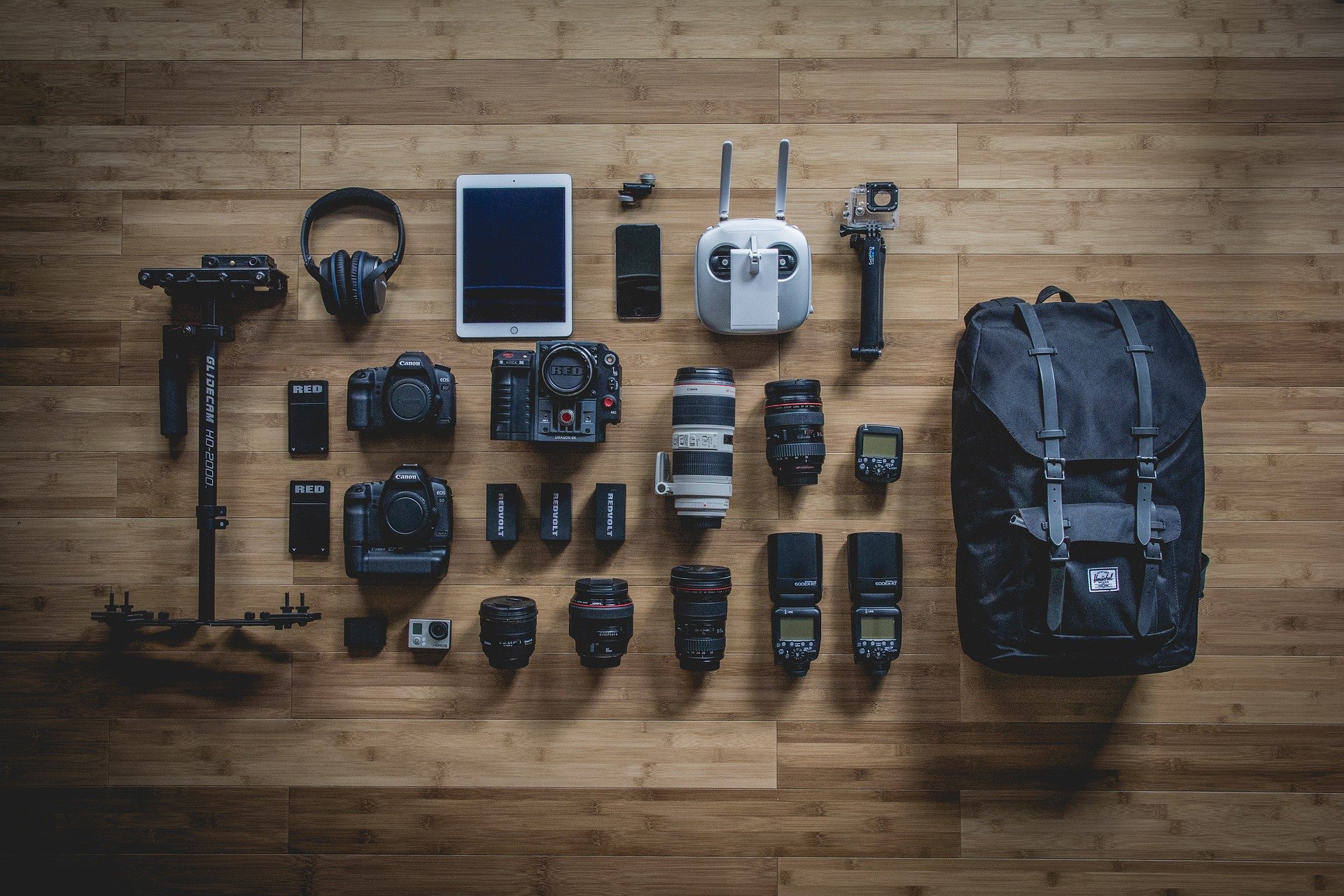 What is in Thelocalguide Camera Bag?
Thelocalguide was started as a therapy and a side hustle to keep me busy. I wanted to do something creative, so I started documenting my journey. And I am glad it has been loved among the people and they are interested to know how I do it.
Before we move on and i share all the details i want to share something.
Creativity lies in the imagination and hard work of the person, gears are just secondary!
All of these devices have been procured in the lifespan of 3 years, this is the only hobby i have so all my money goes here. Well, that said let us explore what I use for creating the content.
I will also suggest you to look for these items on Olx first. If you don't find them there then look at the local stores. If still you can't find them then only buy it online.
Mobile camera setup
When I started YouTube I didn't have any camera, I only had GoPro and my Oneplus 5 which I still use. When I started learning cinematography I gradually upgraded my camera setup.
If you start creating content then you can start by purchasing just mic and use your smartphone. Each smartphone nowadays is powerful enough to record videos in 1080p and the new smartphones are even capable of recording the 4K video. They all have inbuilt stabilization and record videos with a good color profile.
I also purchased mobile gimble later, it allowed me get smooth shots while running, walking etc. It helped a lot while shooting outdoors in the streets.
Main Camera setup
This is my main camera setup, I call it the main camera because this camera is used to shoot all the shots where I talk to my internet family.
Panasonic Lumix GH5
This is my main camera, although it was launched 3 years back in 2017 it is still the most used camera among the top YouTubers. The main reason is it can shoot 4K, it has inbuilt IBIS i.e inbuilt image stabilization which gives you smooth and stable footage without using the gimble.
It's very important for the camera to have inbuilt stabilization, which means it should not record shaky footage when the person holding the camera walks or on hold.
I bought this camera on Olx so I was able to save 60,000 rupees.
I also use a high-performance memory card which allows me to shoot in 180 frames per second slow motion directly in-camera. That's just one of the crazy features of Lumix GH5. Also, you will need the heavy-duty tripod. Any LED light will help you if you are shooting at night.
Secondary Camera
This camera is used when I need the second angle in my shots. I also use this camera when I need the close-up shots with the bokeh effect. This is the Canon 200d mark ii, it is an amazing DLSR for both photographers and video creators. The color science of canon is amazing you don't need to edit it much after shooting.
I always carry camera equipment's in the waterproof bag, it is always good to invest in a good camera bag to save your lakhs worth of equipment. A good SD card help to record the videos in 1080p resolution without overheating.
Canon EF 50mm f/1.8 STM Lens
Audio
Do you know that you only get 3 seconds to impress the viewer? Imagine if you started a video and it has poor audio. There is a 100% chance that you are going to exit the video. And as they say
First impression is the last impression!
I have focused on audio since the beginning if you are shooting from mobile make sure to record the audio separately. The inbuilt microphones record the noise along with your voice. That results in poor video quality. I use a variety of audio devices let's explore each one here.
Zoom H1n External audio recorder
Action Camera
When you want to vlog in the rain, while driving a jet ski or when you want to record footage from the first-person view. All those situations can only be recorded with the action camera.
I use the GoPro Hero 7 Black action camera.
To use the action camera in all kinds of scenarios you need to have the action kit. It has all the attachments and accessories which can be used with the action camera. You will also need extra battery and charging hub because the battery life on the GoPro is maxed 45 minutes. There is no need for an external case since the GoPro is a rugged device and waterproof out of the box.
To get the wide-angle also need to buy the GoPro 3-way stick which also has a mini tripod that can be used while taking time-lapse. A good memory card is a must if you want to record 4K videos.
In the future, I will get a 360 action camera by Insta360 One R in the future.
Extra battery with charger
3 way stick + mini tripod
Drone
Eagle eye view or drone shot helps to add a new perspective to the videos. I am still learning this skill. My favorite brand is DJI. You need to have a high-performance memory card as it supports 4k video recording and saves the device from overheating.
Laptop
This is my workstation for all my post-production tasks. Although I purchased it for practicing programming in 2017. Thelocalguide was taking birth at that inside me. Anyways this is the main laptop I use for all my tasks. It is extremely costly but it will never ever give you a problem.
Softwares
I use a few software to process the photos and videos, I use a mobile and my laptop both for editing. let's explore one by one.
ENGLISH
I have been using Davinci Resolve for video editing, The best part of this software is it is FREE.
Davinci resolve offers video editing animation audio processing and color grading. Believe me, you can do all these activities in just this particular tool. There are many inbuilt effects and transitions that can be used in the video out of the box.
ENGLISH
I use Snapseed which is by Google for editing in smartphones. This is a free tool and it is available both on iOS and Android.
When I am editing photos on my laptop I use Adobe lightroom along with Adobe Photoshop. These tools are the best in the market and I don't think there are any alternatives to these.
Conclusion
I have invested around 6 lakh on my own hard-earned money on the gear. That amount sounds too much but all of us have a hobby for which we can spend anything right?
Creating these videos and documenting my journey keeps me creative, busy, and active. Trust me I started this channel just to show the places I visit my grandmother and my mother. I never knew that this will be loved by so many people.
It takes to create just a few minutes of video. I have learned everything from YouTube and I am still learning it's a never-ending process.
Anyone can become a creator you can buy all this gadget slowly. You have to be genuine to yourself and keep putting enormous effort and be always positive.
If you want to support me you can do by sharing the content or you can Donate 🙂
I hope this will help you if you have any doubts any questions feel free to ask me here in the comment section how you can connect with me on the social media handles.
God bless you all and thank you!